An all inclusive holiday to Lara Beach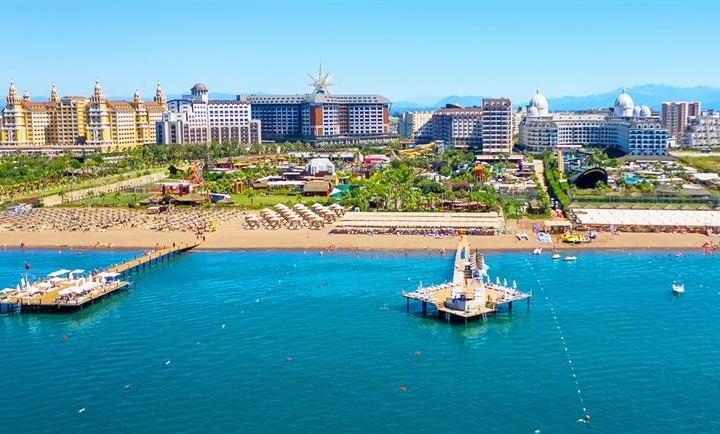 Lara Beach
is a tourist district located east of
Antalya
. This is a long sandy beach with hotels and beach clubs.
The westernmost part of Lara Beach consists of a public beach. A large part of the beach has now become a kind of semi-private beach of the hotels here. The word "hotels" is actually an understatement. They are complete holiday complexes that seem to want to surpass each other in charity. One hotel is even more impressive than the other. They are almost without exception all-inclusive hotels where you can eat, drink and be entertained all day long. Some hotel guests therefore hardly come out of the resort during their holiday.
If you are only looking for sun, sea, beach and entertainment, there is more to experience in the areas of the hotels than in Lara itself. Outside the hotels you really only have some shops and shopping centers where you can buy souvenirs and imitation of designer clothes, shoes, bags and accessories. That is also not an activity that you spend all evenings. Lara is intended for tourists who consciously choose a week (or longer) to be pampered without having to pull your wallet every time.
Traveling from the city center to
Lara Beach
, take the dolmus minibus that runs along the beach to where public access ends. It usually takes almost 45 minutes to get to the beach, provided you drive east from the city center, Kalekapisi station.
When it comes to choosing a hotel in
Antalya
, the best suggestion is that you choose a five star hotel. The Turkish people would have invented the all-encompassing system and it is without a doubt that they have implemented it best. For example, a variety of dishes from Turkish and international cuisine, fresh drinks or intoxicating drinks are on the all-inclusive service list.
We are delivering rental cars to hotels located in the Lara beach with our new model cars and affordable hire prices. With our well-maintained vehicles in our fleet, you can rent the most suitable car to visit comfortable and luxurious hotels in Lara. When you need to rent a car in your Lara-Kundu travel, do not rent a car without getting a price from us.
Club Hotel Sera Delphin Diva
Club Hotel Falcon Titanic Mardan Palace Hotel
Barut Lara Hotel Asteria Kremlin Palace
Aska Lara Resort Baia Lara Hotel
Akra Barut Hotel Delphin Imperial Lara
IC Hotels Green Palace Melas Lara Hotel
Miracle Resort Hotel Nirvana Cosmopolitan Hotel
Ramada Resort Lara Sherwood Exclusive Lara
Titanic Beach Lara Trendy Lara Hotel
Wind of Lara Hotel The Marmara Hotel
Swandor Topkapi Palace Royal Seginus Hotel
Royal Wings Hotel Saturn Palace Resort