A Mediterranean lifestyle, Belek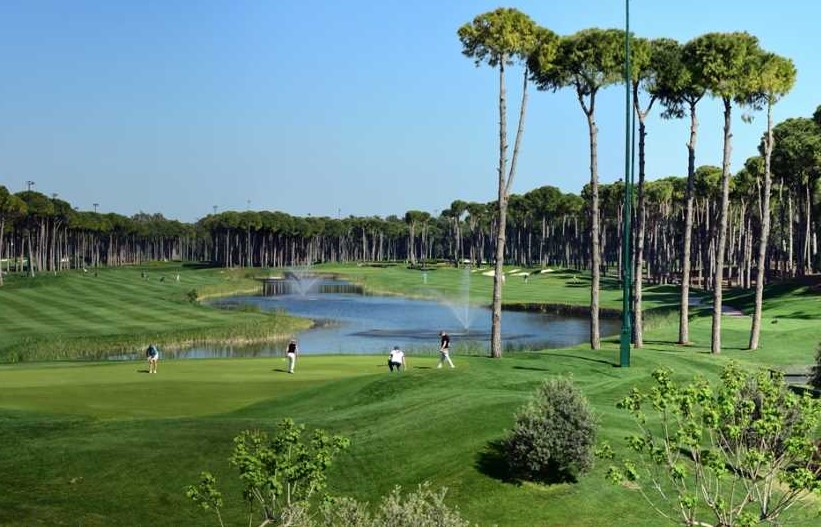 For many, living in
Belek
is about pursuing a Mediterranean Turkish dream. As part of the larger Antalya region, the city offers newcomers long beaches, a charming choice of shops, restaurants, bars and 300 days of sunshine a year.
Many locals love the age-old saying 'home is where the heart is' when talking about the city, but look deeply because it has accomplished much more than an expat destination.
To appeal to tourists and buyers of foreign homes, many other tourist cities around the world have marketed themselves as something special and have failed spectacularly. However,
Belek
is a winner.
Through targeted marketing, global promotion and meticulous city planning, it has become the golf capital of Turkey and a mecca of golf courses, schools, club houses and world championship tournaments.
Many famous figures, including Barack Obama and Tiger Woods, practiced their swing on Spanish and Portuguese golf hot spots. The G20 summit also took place in 2016. So don't be fooled by its unobtrusive profile in the mainstream Turkish tourism scene, because when it comes to golf, Belek does it in style with a bucket of professionalism.
Its reputation needs no more admiration, but in recent years it has also opened the Land of Legends theme park. Call it the Turkish version of Disneyland to understand why it has a hard legion of worldwide fans. So besides 16 world-class golf courses, impressive 5-star hotels next door and roller coasters, what more are residents looking forward to?
Living in Belek as a Mediterranean lifestyle:
As a beach summer resort, people's social agendas are flooded from morning to night from May to October. Outdoor activities such as water sports, swimming, sunbathing, photography, hiking and exploring cultural sites will keep all ages entertained, while evening times mean indulging in the time-honored food tradition.
Once the tourist season ends in October, the social community's agenda will drop a notch, but there is still plenty to do. Belek is just a short bus ride from Antalya's city center, a year-round hub and city destination. Golf courses are still open, as are the spa and wellness centers and many expat groups abroad do a different activity every weekend.
Shopping in Belek:

Weekly street markets are a favorite community feature across Turkey, and Belek is no exception. It is held every Saturday and sells everything you need, but if you miss that, head to nearby Kadriye for their market on Tuesdays.
Tourism is a major trade, so souvenir shops are everywhere, while larger supermarkets stock your daily food items. An advantage is that ultra-modern, large shopping centers such as Terracity with shops, eateries and entertainment centers under one roof are only a 30-minute drive away.
Transport and transportation:

Being a car owner is not a top priority as cheap and frequent local bus services run to the surrounding neighborhoods all year round. Buses also run to the center of Antalya with a wider range of shops, restaurants and bars. A major advantage is Antalya Airport, a 30-minute drive away. As one of the major tourist Turkish airports, it is super modern and open all year round for international flights.
Belek also appeals to investors who buy to rent because it includes two tourist niches; golfing holidays and the regular tourist scene. As part of the sprawling Antalya region, which is also the second most popular holiday destination in Turkey, property owners for sale have two major markets to advertise on. When renters don't practice their swing on the golf courses, they can also sightsee, party, shop, eat, drink and relax.
We deliver rental cars to hotels located in the Belek Golf Hotels-Bogazkent Hotels with our new model cars and affordable hire prices. With our well-maintained vehicles in our fleet, you can rent the most suitable car to visit the comfortable and luxurious golf hotels of Belek. When you need to rent a car in your Belek trip, do not rent a car without getting a price from us.
Adora Golf Resort Hotel
Alva Donna Exclusive Hotel
Aquaworld Belek by MP Hotels
Attaleia Shine Luxury
Aydinbey Famous Resort
Belconti Resort Hotel
Belek Beach Resort Hotel
Bellis Deluxe Hotel
Calista Luxury Resort
Cesars Temple Hotel
Club Asteria Belek
Club Mega Saray
Cornelia De Luxe Resort
Cornelia Diamond Golf Resort
Crystal Family Resort Spa
Crystal Paraiso Verde Resort
Crystal Tat Beach Golf Resort
Ela Quality Resort
Gloria Golf Resort
Gloria Serenity Resort
Gloria Sports Arena
Granada Luxury Belek
Gloria Verde Resort
Gural Premier Belek
IC Hotels Santai Family
Kaya Belek Hotel
Kaya Palazzo Golf
Kempinski Hotel The Dom
Kirman Belazur Resort
Limak Atlantis Deluxe
Maritim Pine Beach Resort
Maxx Royal Golf Resort
Royal Adam Eve Hotel
Sentido Zeynep Golf
Sherwood Dreams Resort
Sirene Belek Golf Hotel
Susesi Luxury Resort
Sueno Hotels Deluxe
Titanic Deluxe Belek
TUI BLUE Belek
TUI MAGIC LIFE Belek
Voyage Belek Golf Spa
Xanadu Resort Hotel