Touristic Information of Kemer, Antalya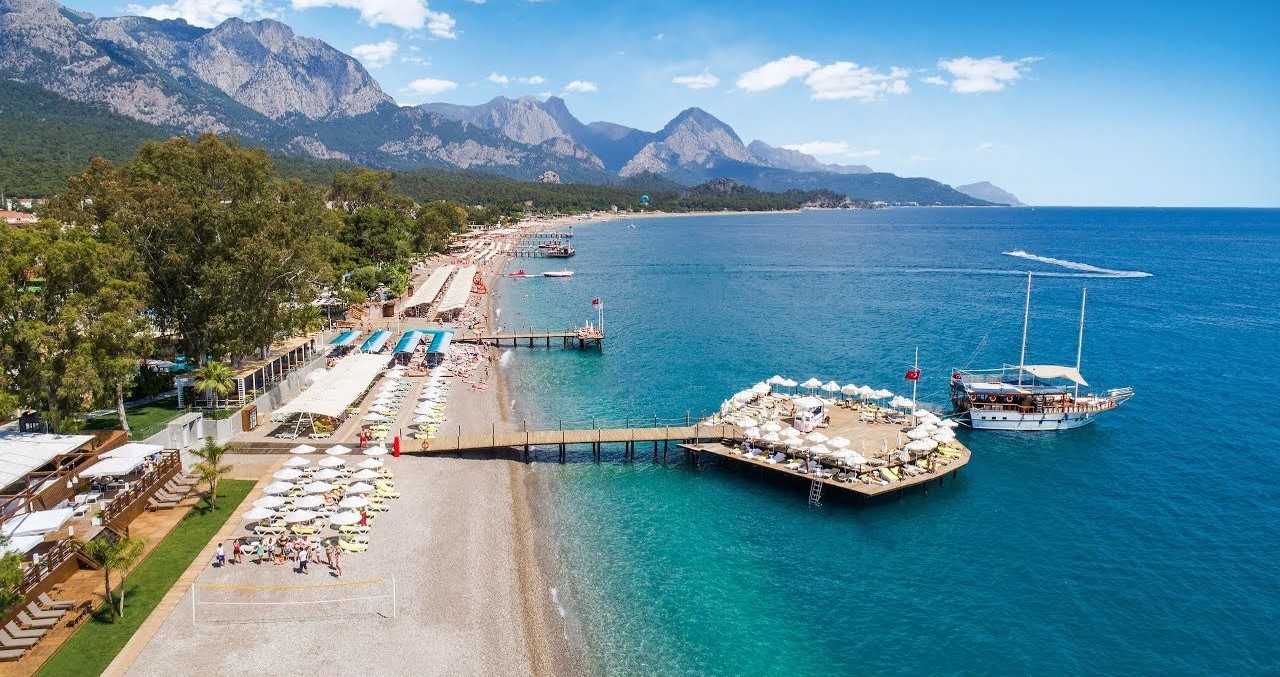 The pearl of the Mediterranean coast, Kemer, one of the most beautiful areas of Antalya, is a remarkable region in every way. Top of the list of places to visit in Turkey, Kemer is home to thousands of tourists every year with its azure blue beaches, natural beauty, vibrant nightlife that never ends. We have listed the most beautiful places in Kemer with many historical and natural places, places of entertainment and bays to visit.
Things to do in Kemer, Antalya, Turkey:
We have listed the historical places, sights and natural beauties of Kemer, one of the most important holiday regions of Antalya, for you.
Yoruk Park:
You can visit Yörük tents as an open-air museum with revitalizing figures that reflect the culture of the Yörük people in the past. And you can also taste local dishes with traditional music. Yoruk Park is a must visit place on your trip to Kemer.
Moonlight Beach:
Moonlight Beach, one of the most beautiful beaches in Kemer, attracts many visitors with its clear sea and golden sandy beach. The beach at the back of the marina, with its crescent shape, is quite remarkable among Antalya's other beaches. The public beach is free and there are cafes and restaurants. It is definitely one of the places we recommend for a trip to Kemer.
Phalesis Ancient City and Phalesis Bay:
Located in the village of Tekirova, 12 km from Kemer, the old town contains ruins dating back to the 7th century BC. There are three bays in the region, the Lycian city and home to civilizations such as Persia and Rhodes. Nekrepol, aqueduct and ancient theater ruins where you can see, we recommend you to add to your list of places to visit in Kemer.
Beydaglari Olympos National Park:
Located in the village of Çıralı, 28 km from Kemer, the national park, which was designated a protected area in 1972, is a paradise. Covering an area of ​​34,000 hectares, the National Park is home to popular places such as the ancient city of Olypmos, the Cirali coast, Chimera, Lycian Way. The camp is a must for photographers and hiking enthusiasts.
Beldibi Cave:
The Beldibi Cave, 19 km from the center of Kemer, was discovered in 1956 and declared a protected area. The cave, which bears traces from the Paleolithic, Neolithic and Mesolithic, is located 25 meters high from the sea, you will find historical ruins and also a beautiful view. We strongly recommend that you go to Kemer during your vacation.
Chimera (Kimera):
This place in Çıralı, 35 km from Kemer, is a must-see. It leaks from a natural gas source, burns and creates these interesting images. It's a legend dating back to Homer, and foreign tourists come for rituals too. Also Yanartaş, located within the boundaries of Olympos Antique City, is one of the most interesting places in Kemer.
Goynuk Gorge:
Goynuk Canyon is located on the Lycian Way and 8.1 mi from Kemer. There are many opportunities to participate in activities such as paintball, hiking, zipline, rafting and you can enjoy your holiday in Kemer with your family or loved ones.
During your vacation in the tourist area of ​​Kemer, you can rent a car from our affordable vehicles, enjoy your journey and sunny Kemer.