Important Highlands in Turkey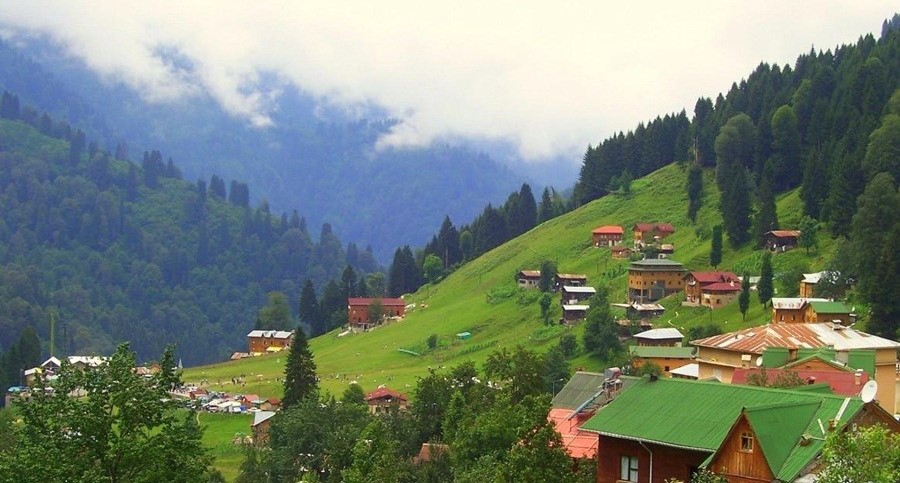 Yayla Culture "highlands" in Turkey is one of a kind, with some of the world's most beautiful alpine pastures that amaze tourists from all over the world.
Ayder Yayla:

Ayder Yayla is perhaps the most famous yayla in all of Turkey. It features dense forests and is surrounded by waterfalls at an altitude of 1350 meters.
For centuries, the yayla has been used as a place to relax amid the beautiful spruce, pine and beech forests, often from the villages below. There are thermal springs on the plateau that have been used by locals for millennia for their restorative powers.
There are trails around Ayder Yayla that stretch for the beauty of the Kaçkar Mountains as you wander through countless plains full of flowers and alongside local meadows full of herbs with medicinal properties known only to the locals.
It has been a tourist center for the past 30 years, with signs and events organized by the local municipalities to attract people from all over the country and beyond. There are hotel and spa facilities and the water can reach a temperature of 55 degrees in the summer.
Some of the best honey in the world also comes from Ayder.
Sakarya Karagöl Yayla:

Karagöl Lake in the Taraklı district of Sakarya represents a beautiful plateau with a lake that protrudes 1150 meters above sea level. The hiking and vistas you get along the trails are beautiful and it is well developed but still feels completely natural as it hasn't been discovered too much by the tourist swarms yet.
But it will be one of these days as it is just a few hours outside of Istanbul and one of the most beautiful walks you will find anywhere in the world. Hike through the fall, it's still warm enough, or camping (although there are no official camping areas, there are no rules yet that will prevent you from pitching a tent and enjoying nature) and breathe in the clean air. Festivals are held in summer and spring, while locals are introduced to the beauty of this place. You don't have to bring more than an empty bottle, because the local spring water is of the highest drinking quality. The yayla itself is not exceptionally long and it takes about an hour to walk from one side to the other. As you walk, you will see a few ruins from when this was a Roman settlement.
On Friday there is a local market, which sells traditional handicrafts from the surrounding boxwood and beech trees, as well as the local produce. This yayla is one of the best 1-2 day trip outside of Istanbul you will find.
Gito Yayla:

Gito is another beautiful yayla in the Çamlıhemşin of Rize, stretching over the beautiful Fırtına river valley with beautiful valley views. This is a place where you can look down and see what the whole world down there looks like, including even the clouds as they dance for you.
Developed relatively recently for outside visitors, it is clean with signposts for hiking and picnics. The atmosphere is somewhat mysterious as clouds and mist are a constant with trees and the river peeking through them at unexpected moments.
Pürenli Yayla:

Located on the border of the Gölyaka of the province of Düzce, Pürenli Yayla is a beautiful beautiful plateau with green meadows and colorful flowers. Traditional festivals are held every year along the yayla that is intentionally set for when the flowers are in full bloom. Camping is common here and you can hike in the area.
Kümbet Yayla:

Kümbet Yayla is perhaps the most famous yayla in an Eastern Black Sea region best known for its yayla and yayla culture. It is located at an altitude of 1640 meters, 52 km south of Giresun province. The fame means it's not the uninhabited beauty of other yaylas on this list, but instead a thriving place full of people and festivals and life. The Kümbet festival is held every year on the second Sunday of July on a small hill just above the yayla and offers views of the entire range of hills. The mountains are covered with beautiful spruce forests, and even the road to the yayla contains some of the more spectacular roads across Turkey as they make their way up.
You need daily or weekly car rental to visit the highlands in Turkey. We offer high quality car rental in Antalya, Kayseri, Kemer, Bodrum, Dalaman, Fethiye, Alanya with our affordable prices and new model cars in Turkey.