Cruise Trip destinations in Turkey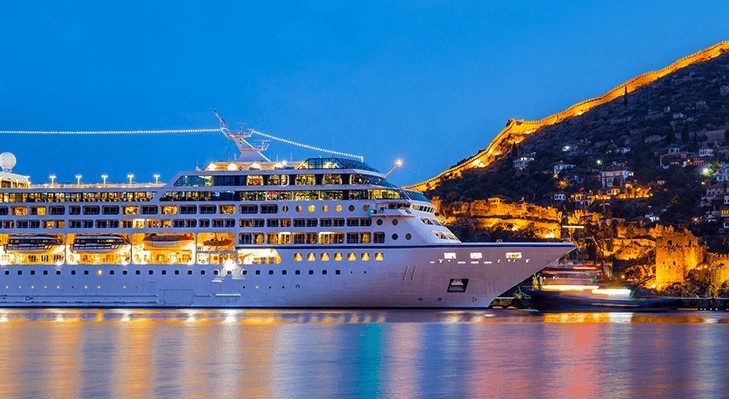 Turkey is a top cruise destination and a starting point for Europe, the Baltic States and beyond. Turkey offers an excellent travel experience for cruise lovers. Turkey is surrounded by a variety of coastlines with diverse environments, making it a dream destination for any sea lover. These are the best Turkish cruise destinations!
Istanbul;

Istanbul is a thriving metropolis and a wonderful testament to the history and cultures that overlap the city. The fusion of old and new, east meets west, is felt throughout the city in art, architecture and food. First-time visitors should definitely see the old town. Home to the splendor of the past of the Byzantine and Ottoman empires, Sultanahmet offers wonders such as Hagia Sophia, Blue Mosque, Topkapi Palace and Basilica Cistern. Or go back in time to the Grand Bazar, where you can haggle over antiques or beautiful jewelry, just like the one before us. Go to the spice bazaar and taste
Whether you're looking for kebab, fresh fish or vegetarian mezes and exploring dishes, Istanbul has something for everyone. The layers of history have created a nice melting pot of flavor in Istanbul, in food and in culture. Visitors will be delighted by the wide variety of cafes, restaurants, lounges and tavernas to replenish the mind and body.
Canakkale
;
Canakkale is a delight for families, with beautiful, safe beaches; for history buffs, with Troy, Pergamon and Gallipoli close by and for outdoor enthusiasts, with huge areas of the national park within easy reach for hiking and biking.
Canakkale is located on the coast of the Strait of Dardanelles. This strait offers beaches for swimming, sailing and paragliding, forests for walking, camping or cycling. If you are looking for a touch of history, Canakkale is perfectly located near Troy and Pergamon. These ancient cities have amazing ruins to explore and informative museums to delve into.
Izmir;

Izmir is a frequent summer holiday playground for young and old. The city has a rich historical and cultural heritage, founded by the Greeks, before becoming an important Roman city and then ruled by the Ottomans. There is astonishingly much to see and do when you are tired of the beaches and water sports.
Cesme;

Cesme is another summer city. With long sandy beaches and crystal clear water it can be difficult to get out of the waves, but we promise it's worth it! Cesme's old town is adjacent to the beach. Cesme Castle proudly overlooks the sea. Built in Genoa in 1508, this fortress is now home to the Cesme Archaeological Museum. Due to past Christian influences, there are a number of historic churches in the area to explore.
Bodrum;

Bodrum is a summer destination, and those who don't like crowds have the vast coast to themselves in the off-season.
Bodrum Town, where most cruises dock, is a lively city with a central bazaar, local shops full of handmade products and a lively restaurant and bar scene. Other top cities on the peninsula include Turkbuku, with nightly handcrafted markets, seaside restaurants and beach clubs. Gumusluk, a small town with a wonderfully quiet bay and home to the cutest restaurants by the sea, all decorated with lights and colorfully painted gourds.
Marmaris
;
Marmaris is a fantastic destination in its own right, with an adorable seaside old town and nearby coves and inlets that require exploration. Marmaris Castle was built in 1522 under the leadership of Sultan Suleyman the Magnificent and was one of the few buildings that survived the 1957 earthquake relatively unscathed.
Used as a place of worship for ancient gods and goddesses, now the cave is a haven for local flora and fauna.
Antalya;

Antalya is the largest city on the Mediterranean coast. Bordering the Taurus Mountains to the north and the Mediterranean to the south, the city is a well-known summer playground, with beaches, resorts, water parks, water sports, scuba diving and more. The surrounding area is perfect for hiking, camping, cycling and mountain biking. The nearby Salda Lake is also worth the trip. Turquoise waters, white sand beaches and a break from the crowds offer something different for those willing to explore.
Hadrian's Gate, Iskele Mosque, Karatay Medrese, Kesik Minare (Broken Minaret) Mosque, Tekeli Mehmet Paşa Mosque, Yivli Minare (Fluted Minaret) Mosque.
Exploring Turkey by sea or land has never been easier! We are sure you will find something in each of these top cruise destinations!
Cruising in Turkey and you need your car rental during the holidays, you can rent vehicles from our affordable, you can enjoy your trip and your holiday.