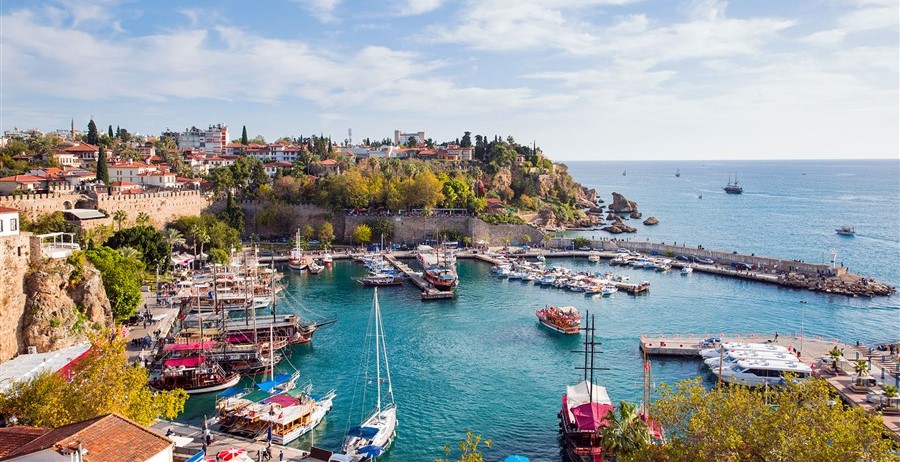 Antalya, city on the Mediterranean Sea, is the Turkish capital of international tourism.
Antalya is a tourist destination characterized by a Mediterranean climate with hot, dry summers and fairly warm and rainy winters. This is one of the reasons why more and more tourists are using Antalya not only as a summer destination, but also as a winter vacation spot.
Once you have tried Antalya cuisine, the taste of the spicy piyaz or the many cold Mediterranean dishes made with olive oil will stick with you forever and no matter how hard you try to cook it at home, there will always be a secret ingredient that you miss ... the taste of the places or the taste of the local color that people have learned to use in their dishes.
In addition to its cuisine, Antalya also has golden beaches (Konyaalti and Lara) and foaming milky waterfalls (Düden, Manavgat), which have been included as main tourist attractions in the list of reasons why people choose this vacation destination for the first time or keep coming back more and more.
The city of Antalya seems to have absorbed all of Turkey's cultural and historical past, so well preserved and sealed by the traditional archeology of mosques, churches, madrasas and hammams that has withstood the ruthless test of time.
The historical part of the city, Kaleiçi, is also the tourist center of Antalya: hotels and clubs, restaurants and bars are the buildings that the modern tourist world has built next to the Yivli Minare, a symbol of the restored historical city center and to The Kesik Minare, a former Byzantine Pangalia church, was later converted into a mosque.
Despite Antalya's growing popularity with tourists, the main transportation here is by air, although sea and land routes have only recently been considered.
Antalya's entire urbanized transportation system makes it easy for its tourists to move from one place to another and visit all the sights they want, while conserving their energy for the grand tour of restaurants and bars.
You can choose from tour minibuses that follow a set route, taxis or trams, so that a tour day in the Antalya Museum can end with a walk in the Antalya Beach Park or on the shores of Konyaalti Beach. Likewise, they can leave their hotel (either luxurious like Sheraton Voyager, Falez Hotel or cheap but comfortable) along the coast just above the beaches of Konyaalti and Lara, get on a tram and get off in the city center streets full of old Turkish and Greek houses.
The legendary Turkish baths, the spicy food, the colorful souvenir shops, the noisy streets and bars full of other euphoric tourists, just like you, the historical traces preserved in Hellenistic, Roman, Byzantine or Ottoman buildings.
With our well-maintained vehicles in our fleet, you can rent the most suitable car to visit comfortable and luxurious hotels in Antalya. If you need to rent a car on your trip to Antalya, don't rent a car without receiving a price from us.