Best Diving areas in Turkey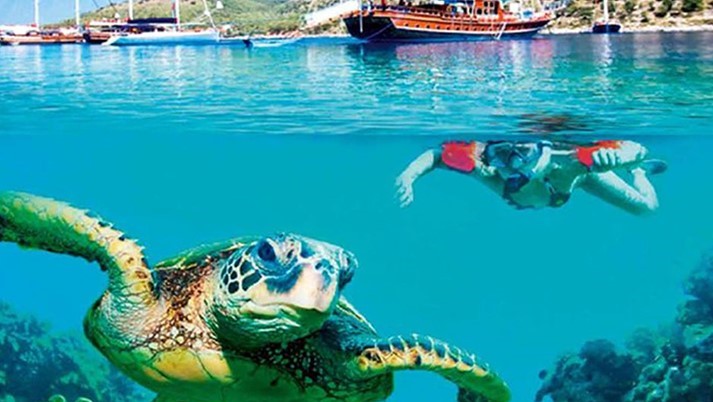 Kas
:
The southern district of Kas in the province of Antalya is one of the most popular dive sites in Turkey. Kas has a range of diving options from Kas to Kalkan further east and Patara west. Crystal clear water provides almost perfect clarity. Fish, sea life, seaweed, grasses, some coral and sea sponges between traces of ruined cities populate the dives in this area.
Bodrum:

Bodrum has a number of unique bays around the peninsula. The seas quickly change from shallow to amazingly deep, with solid fish, octopus, seaweed and seagrass and sea sponges. In fact, while diving with a sponge when a local resident came across the wreck of the Uluburun, a Bronze Age ship dating back to the 14th century BC, it is now on display at the Bodrum Museum of Underwater Archeology.
Datca:

Datca is a beautiful area with hot springs, glorious bays and beaches. It is also an important maritime center as the main breeding ground for Caretta Caretta (loggerhead) turtles in Turkey. The headland has many beautiful bays and areas for snorkeling and diving, with dolphins, sharks and other marine life regularly seen in the region. Datça offers unforgettable underwater experiences for you to enjoy.
Antalya:

Antalya is a great place to learn to dive. With many diving schools in the area and a variety of different dive sites to choose from, divers of all levels will be delighted with the offer under the sea. Kemer, Side, Demre, Olympos and Alanya are great places for diving enthusiasts.
Ayvalik:

Rumor has it that the area around Ayvalik is the location of the lost city of Atlantis. Although Atlantis has been a myth for centuries, Ayvalik is a dive site to explore now, with unique diving opportunities at Gunes Island, Yuvarlak Island and Kerbela Rocks. A variety of beautiful fish, colorful species and coral reefs live in the sea. Most interesting, however, is the dive from Kiz Island, where an abundance of corals, seaweeds and other sea grass can be seen from a depth of 19 meters.
Mersin:

Mersin, further east on the Mediterranean coast, is a very popular dive site. The area has an interesting history as it passed through the hands of the Armenians, Greeks, Romans, Selcuks and eventually to the Ottomans. The area has many bays and inlets where it is possible to view elements of past lives through lost objects and tickets. Dana Island, Sancak Bay and the area near Tasucu are worth investigating.
Gallipoli:

Gallipoli on the Strait of Dardanelles, close to Canakkale, is teeming with marine life and fascinating shipwrecks. As the site of a WWI battle between the English forces and their allies against the Turks. Highlights include the wreck of the freighter Lundi, which was torpedoed and sunk on April 15, 1915, and the HMS Majestic, located 18-28 m below sea level.
You need daily or weekly car rental to visit the great diving places in Turkey. We offer high quality car rental in Antalya, Belek, Lara, Kemer, Bodrum, Dalaman, Fethiye, Alanya with our affordable prices and new model cars in Turkey.