Enigmatic features of Turkish Cuisine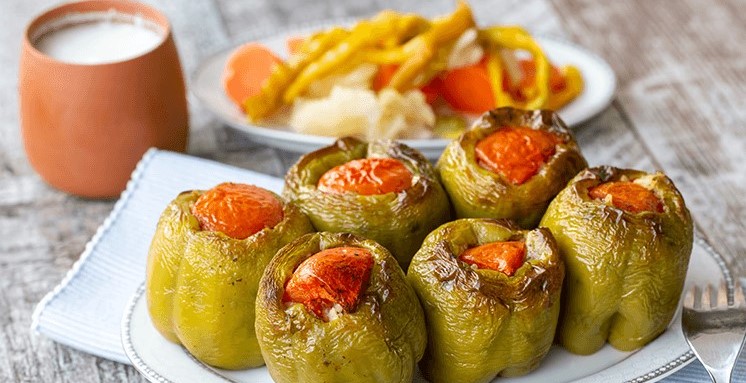 Turkish cuisine is healthy and very seasonal by nature, with many dishes built around the multitude of fresh produce available. Across the country, fresh fruits and vegetables, eggs, dairy and meat are produced, making for highly nutritious and fresh-tasting foods. The flavors and spices that end up in Turkish cuisine are not only delicious, they have antioxidant properties, work to lower cholesterol, get rid of toxins and boost immunity. Fresh herbs such as dill, parsley and rosemary are often used to flavor dishes, while wild herbs are sought in the Aegean and other sparsely populated areas for their purported health and medicinal properties.
Olive oil has traditionally been used to cook and preserve dishes, providing antioxidants and essential trans fats. While fresh fish and other seafood contribute to a diet high in essential fatty acids. Here are some of the health benefits of Turkish cuisine. Enjoy traditional Turkish food while in Turkey to discover unique flavors and also for their wellness properties.
Seasonal products:

Turkey is a large country and with most of the population concentrated in cities, there is ample space to grow a variety of products. Each region, of course, has delicacies and specialties, many of which have grown throughout Turkey for centuries. The basis of Turkish cuisine: aubergines, tomatoes and peppers grow round and juicy under the warmth of the sun. Citrus crops, pomegranates, olives and nuts thrive in the coastal areas, while Anatolia's valleys grow thick with wheat and grains.
The variety of products available means that seasonal specialties are made to welcome any change of the season and promote good health all year round.
Herbs and spices:

Turkish cuisine uses a lot of fresh, leafy herbs that are rich in flavor and have additional health benefits. Rich in vitamins and minerals, wild Turkish herbs are often touted for their anti-inflammatory properties.
Spices and spice markets are an essential part of Turkish cuisine, and therefore Turkish life. From the Spice Bazaar in Istanbul to the home kitchen, spices are ubiquitous. Many herbs are used for taste, contain many vitamins, minerals, essential antioxidants and have anti-inflammatory properties. A common home remedy for sore throats is ginger, cinnamon and chili powder mixed with a little honey. Typically Turkish, this powerful remedy uses ingredients that are easily available in most homes and delivers a sharp kick with a whole range of vitamins and minerals with every bite.
Cooking at home:

The kitchen is the heart of the house and nowhere is it truer than in Turkey. Turkish cuisine is meant to be shared with friends, family and guests. This means that dishes are usually made in large quantities, with a buzz of activity here and there while the meal is being prepared. The dependence on homemade tomato sauce is a secret to many home cooks - nothing bought in this house! The love and attention paid to the most basic ingredients is testament to the role and importance of food and healthy eating in Turkish culture.
In home-style restaurants across the country, you will find dishes of traditional Turkish cuisine, full of delicious flavors and deeply nutritious.
Olive oil:

It can be difficult to keep up with the latest oil trends. A small amount of olive oil is good for a healthy heart, healthy skin and hair. Turkish food is mainly cooked and stored in olive oil, even cakes are made with olive oil instead of butter!
The high antioxidant content in olive oil may explain why Turks have such clear skin and long luscious hair.
Vegetarian and vegan:

Turkish food has a high concentration of vegetarian and vegan dishes that can be eaten alone, with rice or grains, or as a side dish with meat or fish. The vegetable and vegan olive oil dishes, grain salads, meze and other side dishes are typically made from fresh, seasonal produce and generously flavored with fresh herbs. Since olive oil is usually easier to make and store (compared to butter), many dishes are naturally based on olive oil and are therefore vegan friendly.
Enjoyment:

Food is an essential part of life, why not share it with loved ones and new acquaintances? Turkey is a truly hospitable and hospitable country. Nothing is more Turkish than getting together to share, joke and laugh over an elaborately prepared meal. Across Turkey, there is a wide variety of regional specialties, making the most of fresh produce, wild and traditional herbs and spices and locally sourced olive oil.
You will need daily or weekly car rental to visit places and restaurants that offer unique tastes of Turkish cuisine, we offer quality car rental services in Antalya, Belek, Lara, Kemer, Alanya with our affordable prices and new model vehicles.