Some Sugary Turkish Desserts,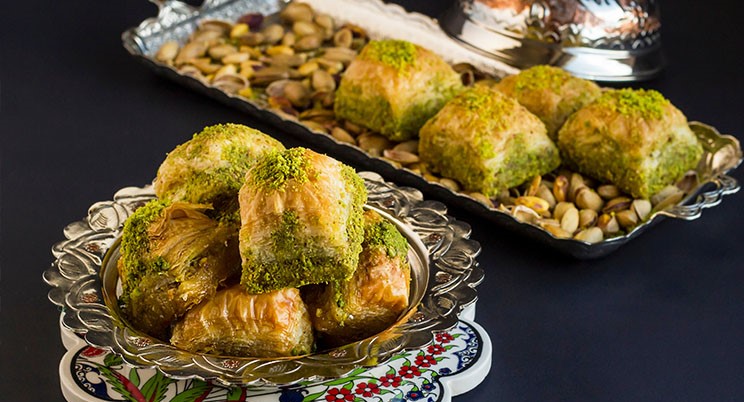 Baklava:

This is the most common dessert in Turkey, it simply means pistachio baklava or walnuts. It is usually cut into squares or small rectangles and sprinkled with pistachio and with chopped pistachios in the dough layers.
Baklava is perhaps one of the better known of the Turkish syrupy desserts.
Kadayıf:

Kadayıf is a sweet dessert made from finely shredded phyllo dough and filled, like baklava, with nuts and butter and topped with syrupy sugar water. It's crunchy on top and sticky and chewy in the middle, with several nuts in it making it a really delicious treat.
Künefe:

Künefe is one of the richest of all Turkish desserts, with a crispy, buttery kadayıf bowl chock full of soaking hot cheese and topped with whipped cream and syrup and drizzled with ground pistachios. It comes from the same region as baklava, namely southeastern Turkey.
It is usually cooked in round, shallow pans specially designed for künefe, and it is relatively difficult to make. The best künefemakers are generally well known, and in southeastern Turkey you can see people making künefe on the street by stretching the cheese as they prepare to put it in his kadayıf bowl.
Lokma:

Lokma is probably the lightest and simplest of the desserts on this list. Essentially, they are fried dough balls that are then soaked in sugary syrup. They have the same composition as the other desserts, with a crispy bowl and a soft interior, but that's in large part because the interior is empty.
Kemalpaşa:

Kemalpaşa is a dessert that comes from the city of Kemalpaşa near Bursa. It is also relatively light, although similar to künefe uses a local unsalted cheese in the center. The ends, instead of made from kadayıf, are made with semolina-based dough, then the entire dessert is again infused with syrup to make it sweet and delicious.