Street flavors you should taste in Turkey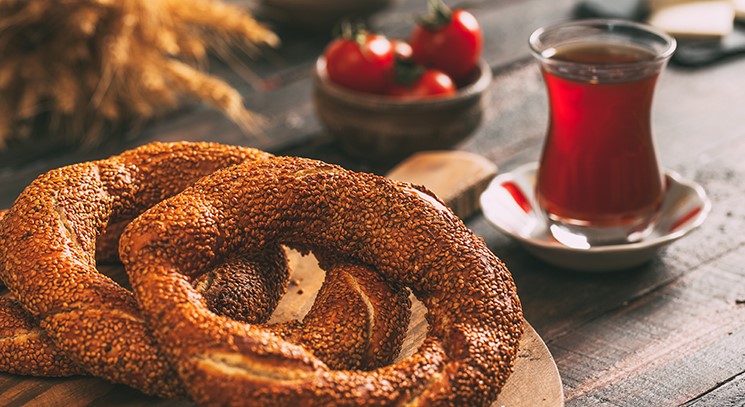 The street flavor culture is very rich in Turkey. In every city you can come across a street flavor that is unique to the region and that can appeal to everyone's taste. We've made a list of Turkey's strongest and most popular street food choices.
Simit:

This rich crunch sesame bagel is a well-known hero among the favorite flavors of Turkey. The freshly baked ones can really turn your head. Locals are known to struggle to resist the smell of this street delight. Simit is a round shaped bread topped with sesame seeds. It can be eaten alone or with some cheese and a cup of tea. Many enjoy it in the afternoon with a glass of buttermilk (Ayran). It is also popular because it is budget and vegan. In Istanbul, many people share this delicious snack with seagulls while crossing the Bosphorus by ferry.
Fresh fish sandwiches:

This may sound controversial to some people, but the fact is that fish sandwich is one of the most popular street food in Turkey. The attractive scent of a fresh bread with warm grilled fish, fresh vegetables and onions invites passers-by, while it is also very affordable and delicious. It is definitely a taste that lingers in your mouth.
Chestnuts (Kestane):

A wonderful street pleasure that heralds the beginning of winter. The roasted chestnut has no other taste. It's strong enough to make you spin and head straight for the slow roasting chestnuts on the barbecue. When winter comes in almost every city in Turkey, it is possible to find a chestnut seller on every corner.
Tantuni:

Originally from Mersin, you can find this super tasty snack almost everywhere in Turkey. Tantunis are made from a unique combination of ground beef with parsley, tomatoes, green peppers and onions, all wrapped in a floury tortilla bread. A perfect way to quickly fill your belly. Many like to eat it with a spicy turnip drink and a side dish of pickles.
Stuffed Mussels (Midye):

Another irresistible street flavor! In coastal areas you will often find stuffed mussels, which are a snack rather than a meal. Stuffed mussels are made with a special kind of rice, chopped onions, currants, salt, herbs and lemon. Don't be surprised if you stand on the side of a counter on the street, squeezing a lot of lemon in the mussel in your hand. Once you start you may not be able to stop yourself! The taste is addictive. Many residents are known to eat as many as 100 at one time!
Baked potatoes (Kumpir) :

Are you one of those people who love all kinds of potatoes? Then you should not miss the baked potatoes on the streets of Turkey. Without a doubt, these delicious snacks add a new way to eat a potato. After you put the hot butter in, you are faced with a mountain of choices you can add. There is no limit to the number of toppings you can stack on it. Fillings range from sausages to pickles, sweet corn to olives. You come back time and time again to try a different combination of flavors.
Chicken with rice:

If you're in a rush and looking for a grab-and-go, a plate of chicken and rice can be a great option. Chicken & Rice is made simple by placing cooked chicken pieces on regular rice, complementing classic Turkish cuisine. Cooked chickpeas are also added to this unique duo. A great accompaniment is a glass of buttermilk (Ayran) and a plate of pickles.
Bulgur (Bulgur köftesi) pasties:

Kneading bulgur with onions, garlic and various herbs is a nice delicacy: bulgur patties! It is an unforgettable treat on the streets of Turkey. It can be eaten alone or wrapped in thin tortilla-style bread with fresh vegetables. It has an indescribable taste when consumed with plenty of lemon and pomegranate syrup. It is great with buttermilk (Ayran). Bulgur patties can be found almost everywhere in Turkey. Depending on which region you are in, its content may vary, whether vegan or not. Make sure to ask if you are one.
Almonds on ice:

One of the best refreshing street snacks, especially in the overwhelming heat. Fresh almonds boiled or soaked in hot water, then peeled and served on ice. Sellers usually stop at the tables in bars and restaurants. This fresh snack is a street flavor that you will find in many streets while walking in the evening.
Turnip (Şalgam suyu) juice:

Gherkins, which started gaining importance in Ottoman cuisine from the 15th century, have become a street flavor that is a tradition today. Pickle juice, one of the tastiest and most daring flavors, is sold in glasses with small pieces of chopped pickles. This unique taste quickly makes you addicted! It has a salty and sour taste. It is easy to find on mobile stalls, in bazaars and markets.
Street flavors you should taste in Turkey