The Shopping Malls in Antalya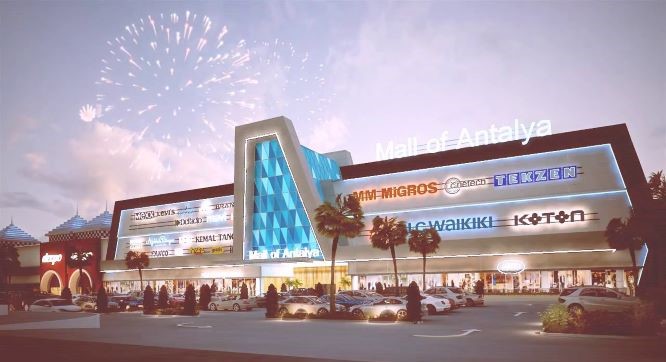 The shopping centers in Antalya
Whether you're looking for great souvenirs to take with you or a new outfit, Antalya is a great place to shop. With its many shopping centers, malls and bazaars, you are sure to find what you are looking for. Here is a highlight of all the top locations for shopping in Antalya.
Shopping centers and shopping centers
There are a number of shopping centers and shopping centers in Antalya that are worth a visit. Here we summarize our favorites.
Terracity
Terracity, the most popular shopping center in Antalya, is located in Lara. It is a multi-storey shopping center with about 180 stores, a handful of restaurants, a food court and a cinema. In this mall you will find everything from local brands to glamorous international fashion houses.
We recommend this mall as it offers the largest selection of shops and restaurants. The area surrounding the mall is also known for its restaurants and nightlife, making it a perfect destination for daytime shopping followed by an evening.
Nearby, we recommend Sushico for tasty sushi and Big Chefs for an informal bite, accompanied by a drink. The top floor food court offers many fast food options for those who want a quick snack to take a break from shopping.
Migros shopping center
Migros is another popular multi-storey shopping center. Not to be confused with the regular Migros supermarket. If you choose this mall go to the right place, you can find it here.
This mall has a large number of shops and one of the largest supermarkets for groceries. It is close to Konyaalti Beach, Antalya Aquarium and Aqualand water park. 7 Mehmet, one of the best restaurants in Antalya, is also within walking distance. This makes this shopping center an excellent choice if you want to combine your shopping with other activities.
MarkAntalya
MarkAntalya is centrally located near the old town. This is a great option for shopping if you want to visit this area. It is also a large multi-storey shopping center with many shops and groceries. MarkAntalya offers a little more choice if you're looking for baby stores, otherwise we prefer the two malls listed above.
Markantalya can be quite busy, so we recommend visiting outside of the busiest times. The best thing to visit near MarkAntalya is the old town, a 15-minute walk away.
Antalya shopping center
Mall of Antalya is a very spacious mall with two levels. It's conveniently located near the airport for those who want to kill some time before their flight. It has a wide variety of shops but nothing special compared to other shopping centers mentioned earlier.
There is also a food court where you can have a quick bite to eat. There isn't much to mention in the area. We would recommend this mall most of the time when your near or on your way to the airport.
Agora
There isn't much between Agora and Mall of Antalya. They are very close together and offer a similar range of shops. Agora is a bit larger and offers a wider variety of dishes.
Ikea Antalya
You can also find ikea shopping mall in Antalya. The center is located near Antalya Airport and Agora Shopping Mall. You can relax, shop, and have fun at affordable prices.
Erasta
Erasta is close to the Migros shopping center. It's not a mall that can make it pretty hot in the summer. It has a small cinema and a medium range of shops.
It's usually a little less crowded than the other stores, so it might be a good option if you want to avoid the crowds. There is nothing of interest in the area.
Antalium shopping center
This premium mall offers a premium shopping experience. Better to check the limits of your credit cards before entering as prices can get high.
Shemall
This mall is a favorite of elite travelers and luxury lovers. The mall is located in the Lara area and offers shopping and entertainment for young and old. You can enjoy long opening hours and do all your shopping without rushing. If you still have some time, you can watch a movie on Cinemapink.
Ozdilek Park
This shopping center offers you four floors on which you can realize your shopping dreams. No matter what you're looking for, you can be sure of finding something in Özdilek. As well as offering shops, the mall was designed as a whole entertainment center. You can rest in one of the many cafes and restaurants, an 8D-Fi
Deepo Outlet Center
The Deepo Center opened in 2004 and is one of the largest shopping centers in the Mediterranean. You can shop, eat, drink or watch a movie all year round on over 38,000 square meters. Deepo branded stores are stores that attract tourists and locals for exclusive deals. What are you waiting for?
Do you need car rental for shopping malls? You can contact us and book for a great opportunity to rent a car from Antalya Airport, from the hotel to the shopping malls.